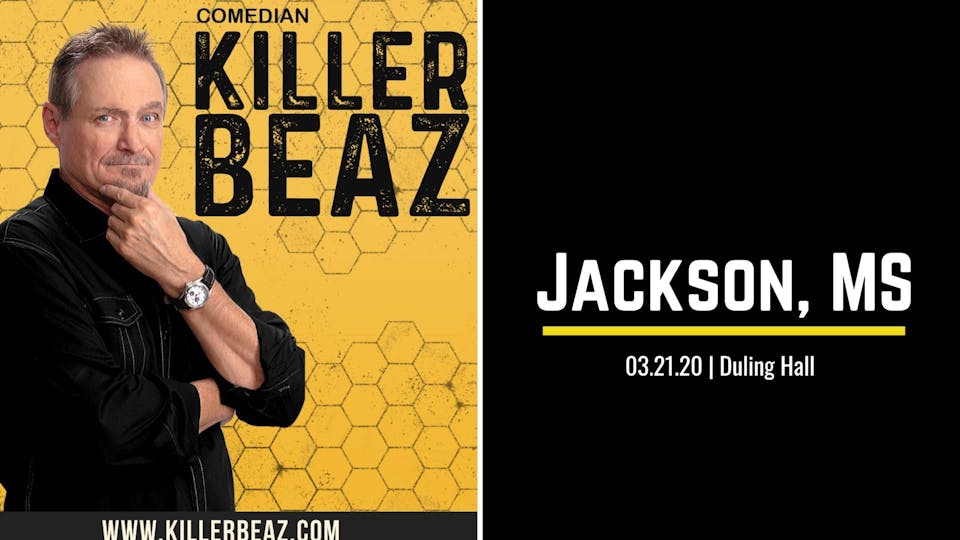 See Killer Beaz LIVE at Duling Hall on Saturday, March 21st!
Ticket Information:
Doors open at 6:00 PM, and the show begins at7:00 PM.
General admission tickets are $25 advance and $30 day of show.
A limited amount of VIP tickets are available for purchase. VIP ticket purchase comes with priority seating, a DVD or DVD Download Card, and Meet & Greet with Killer Beaz before the show at 6:30PM.
This is a general admission, seated show. All seating is general admission and available on a first come, first served basis.
There will be an upcharge of $5 for persons under the age of 21.
About Killer Beaz:
Killer Beaz is currently starring in his fourth season of the Discovery Channel's hit series, "Moonshiners", touring the country, and performing on the high seas. Beaz has just released his new DVD and Download Video, "There's That!", and is about to release an upcoming video series of clean comedy, "Killer Beaz PRESENTS" featuring the standup of Beaz and outstanding comics handpicked from all over the country.
With many thousands of radio, television and stage appearances, Beaz has been entertaining audiences for over three decades. He is an award-winning artist, and has been signed with both Sony and Warner Brothers Records, and received reviews such as:
"Beaz is 'Killer!'" - Rolling Stone Magazine
"Killer Beaz lives up to his name, "Killing" his audience, night after night, show after show!" - Entertainment Today/Las Vegas, NV
"Killer Beaz has a universal appeal that makes him a crowd favorite!" – SHOWTIME/Reno, NV
Learn more about Killer Beaz below:

Venue Information:
Duling Hall
622 Duling Avenue

Jackson, MS, 39216