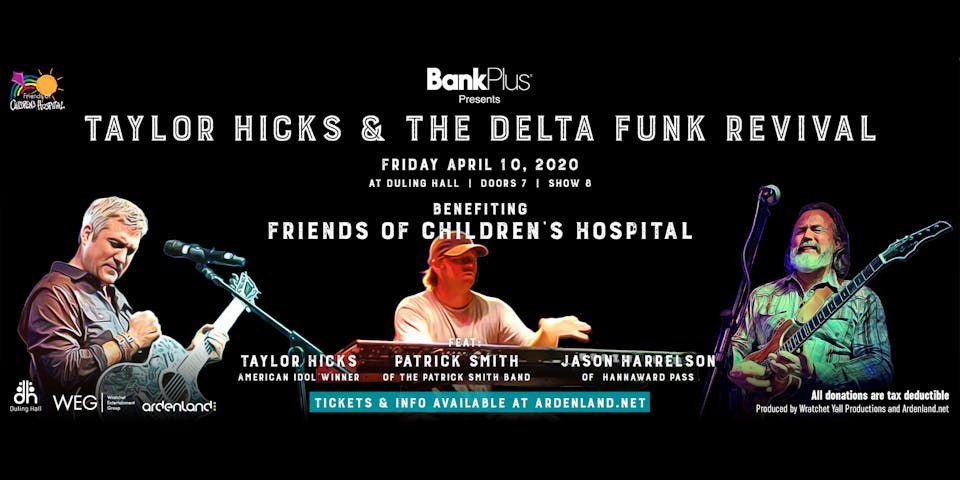 Benefitting Friends of Children's Hospital / Presented by BankPlus
Taylor Hicks and the Delta Funk Revival
$30.00 - $100.00
Postponed
See Taylor Hicks & the Delta Funk Revival at Duling Hall! Benefitting Friends of Children's Hospital / Presented by BankPlus
All proceeds go directly to Friends of Children's Hospital. Donations are 100% tax-deductable. Donations accepted on Ticket Page.
Ticket Information:
Doors open at 7:00 PM, and the show begins at 8:00 PM.
General admission tickets are $30 advance and $35 day of show.
General Admission tickets are standing room only. First come, first served.
There will be an upcharge of $5 for persons under the age of 21.
Reserved Sponsor Tables:
For information please contact: richard@wratchetentertainmet.com
VIP Information:
VIP Tickets are $100 (Limited Quantity)
A VIP ticket grants you early access to the venue for Hors d'oeuvres and Happy Hour, access to a special VIP section for the duration of the show, Meet & Greet with the band, a photo opportunity, a signed and numbered original artwork commemorative show poster, and show t-shirt. Meet & Greet will take place before doors.
About Taylor Hicks and the Delta Funk Revival:
Taylor Hicks and the Delta Funk Revival is an all-star band of seasoned touring musicians coming together for one night at Duling Hall in Jackson Mississippi to raise money for the Friends of Children's Hospital! Get ready for a night of true entertainment filled with bluesy, soulful funk and jam based rock by Taylor Hicks and the Delta Funk Revival... featuring Taylor Hicks (American Idol winner), Jason Harrelson (Of Hannaward Pass) and Patrick Smith (of The Patrick Smith Band).
About Taylor Hicks: For Taylor Hicks, winning "American Idol's" blockbuster fifth season was just the beginning. Hailed as "part Stax, part Motown and part honky-tonk" by The New York Times, Hicks' intoxicating blend of soul, blues, country, and rock & roll quickly rendered him a household name as he progressed to the show's record-breaking finale in 2006, a historic television event which drew an audience of more than 200 million viewers.
Hicks immediately followed his Idol victory with a No. 1 Billboard single and an RIAA certified Platinum debut, and soon went on to make history as both the first male Idol champion featured on a GRAMMY-winning record (Jimmy Fallon's 'Blow Your Pants Off') and the first to land a prestigious Las Vegas residency. A versatile artist, actor and advocate, Hicks has since ventured into theater and television, touring as Teen Angel in the popular Broadway musical "Grease" in addition to appearing on "Law & Order: SVU" and hosting the INSP series "State Plate," which won the Cynopsis TV Award for Best Reality Series (Travel).
After a lengthy hiatus from recording, Hicks returned in 2017 with "Six Strings and Diamond Rings," the first single since his beloved 2009 sophomore album, The Distance. The stirring, stripped-down track offers up a tantalizing preview of Hicks' highly anticipated third album, a deeply personal, roots-inspired collection recorded at Zac Brown's Southern Ground studio in Nashville with contributions from four-time GRAMMY®-winning musician Keb' Mo as well as Robert Randolph. Produced by Hicks along with GRAMMY®-winning guitarist Bryan Sutton (Garth Brooks, Brad Paisley), the album is due out in 2020 and will bring Hicks back on the road for extensive touring.
About Patrick Smith: Patrick Smith's music is full of place, bringing all that the Mississippi River melting pot has to offer with it. He fuses various influences that rolled in on that mighty river to his hometown of Vicksburg, Mississippi, weaving into his songs Delta blues, barrelhouse rocking piano riffs, wailing jazz, underbelly soul, heart-wrenching gospel, and the funkiness of a New Orleans brass band. Patrick's throaty, warm, whisky voice ties his sound tightly together.
Smith and his band have appeared with across the US and Europe over the past 20 years of touring are B.B. King, Doctor John, the Neville Brothers, Little Feat, Galactic, Junior Brown, and Buddy Guy, among others.
Patrick Smith Band is a self-taught pianist who had his first paying gig at the age of fourteen. Throughout high school, he played the explosive Highway 61 blues corridor between Vicksburg and Greenville, Mississippi, having to sit outside the kitchen door or in the parking lot during set breaks because he wasn't old enough to stay inside the bars he was playing in. Patrick honed his skills by playing constantly and jamming whenever he could, jamming with the now-legendary Beanland on riverboat cruises on the Mississippi as a teenager and playing with JoJo Herman of Beanland and Widespread Panic fame while in college in Oxford, Mississippi and often tours with the Dirty Dozen Brass Band.
Patrick Smith's music is funky, bluesy, and soulful, but rocks. This music's got gut.
Merchandise Information:
Show T-Shirts (Next Level Brand): $25
Original Artwork Numbered Show Poster (see below): $20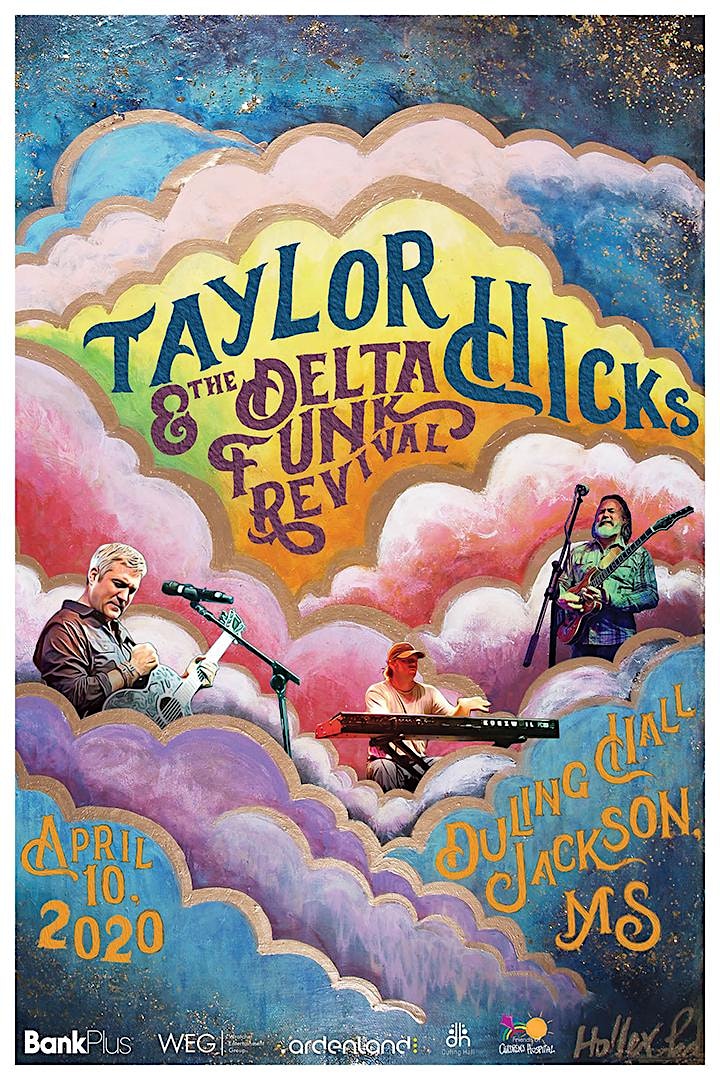 Watch Taylor Hicks and the Delta Funk Revival Below:

Venue Information:
Duling Hall
622 Duling Avenue

Jackson, MS, 39216