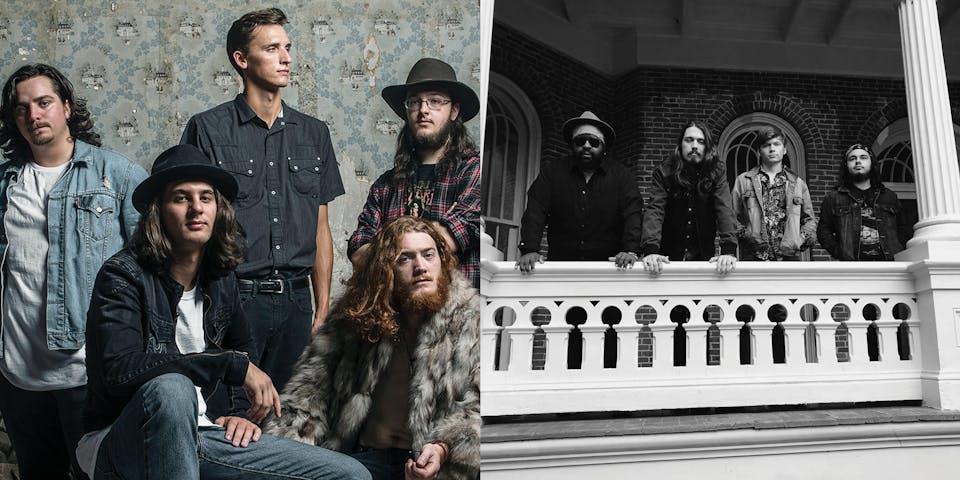 The Red Clay Strays
Magnolia Bayou
See The Red Clay Strays/Magnolia Bayou LIVE at Duling Hall on Thursday, February 20th!
Ticket Information:
Doors open at 6:00 PM, and the show begins at 8:00 PM.
General admission tickets are $10 advance and $15 at the door.
General Admission tickets are standing room only. First come, first served.
There will be an upcharge of $5 for persons under the age of 21.
About The Red Clay Strays:
From the far reaches of rural south Alabama, The Red Clay Strays claim their unique sound with a humble confidence that can only come from their upbringing. This band, on stage and off, reminds you of southern music's heyday and gives you hope that it may not have lost its way after all. Growing up listening to gospel along with artists such as Waylon Jennings, The Eagles, and the Allman Brothers, their wide range of influences create a combined style of the country music and southern rock we've all been waiting for.
Lead Singer, Brandon Coleman, with vocals that bring to mind young Elvis, is the heart of their high energy show along with Drew Nix on rhythm guitar, Zach Rishel on lead, Andrew Bishop on bass and John Hall on drums.
About Magnolia Bayou:
Magnolia Bayou is a rock band, born on the bayous of South Mississippi. Their roots run deep through the rich soil of the Mississippi Delta all the way down to the muddy waters of Mexico. Because their upbringings stretch so far across the state, a vast array of influences are carried throughout their music, which is soaked with the sound and soul of their southern heritage. In the three short years since their formation, they have paid their dues up and down the Mississippi Blues Trail and have toured extensively through the surrounding south and throughout The United States. Full of energy and soul, the band carries a dynamic show that captivates its audience and transports them back to the late 60's and 70', a time when music was epic.
They have shared the stage with many national and global touring acts such as Tyler Childers, Whiskey Myers, Aaron Lewis, Black Stone Cherry, Koe Wetzel, Shane Smith & The Saints, Wet Willie, Ray Wylie Hubbard, The Fantastic Negrito, Eli Young Band, Flow Tribe, Walter Wolfman Washington, Cody Johnson, The Banditos, The Cordovas, Ian Moore and have even been on several tours with Mississippi's own BISHOP GUNN who recently provided direct support for The Rolling Stones on their 2019 'NO FILTER' U.S. Tour. In the last year, the band has had the opportunity to play an array of iconic venues such as House Of Blues and Tipitina's (both in New Orleans, LA) and the world famous 3rd and Lindsley in Nashville, TN.
Magnolia Bayou spent the majority of 2017 funding and recording their self-titled, debut album at Music Shed Studios in New Orleans, LA. Much of the voodoo and folklore of the surrounding area can be heard and felt throughout their LP. The music contains nuances of southern, psychedelic, funk and blues-based Rock N Roll. In May of 2018, the band released the album to a sold out crowd at Murky Waters Blues Club in their hometown of Gulfport, MS. The album has been met with an array of positive reverberation across their rapidly expanding and diverse base. The band is currently in the process of recording their sophomore album in Natchez, MS with BISHOP GUNN's own Burne Sharpe. The album is set to release early 2019.
"But the winds of musical change are blowing, and a rock and roll insurgency is emerging in the southern half of the state. Two bands in particular—Bishop Gunn, from Natchez, and Gulfport's Magnolia Bayou—are capturing audiences throughout the South, and around nation with muscular performances that are upending the prevailing perception of Mississippi as a rock and roll wasteland." Tom Scarborough
Learn more about The Red Clay Strays below:
Learn more about Magnolia Bayou below:

Venue Information:
Duling Hall
622 Duling Avenue

Jackson, MS, 39216